The Samsara of Building No.42 on Dirty Street
Project Team Li Han / Hu Yan / Zhang Xintong
2008 Pan Chao / Meng Haigang / Wang Hongyue / Jin Ding / Xie Jingxin / Liu Yanghui / Lin Sheng
2016 Yang Haoran / Chang Zhen / Song Ke / Bai Xiaoyue / Zhang Cunji / Kang Xue / Chen Dong / Shi Chenlong / Lu Yiping / Li Mengyi / Liu Qi / Kong Qiushi / Li Yaxian / Li Sirui / Jin Xin / Ren Qingguo / Feng Xiaomin / Chu Denghui / Zhou Meng / Gao Xiaolin / Luo Dian
2017 Liu Liyuan / Zhao Chenzhang / Huang Tangzi / Ye Zichen / Yuan Ruizhe / Wang Junkai / Lang Yingchen / Qiu Xiaohan
The Samsara of Building No.42 on Dirty Street tells the story of a residential building on the Dirty Street of San Li Tun in Beijing in the past decade through 4 architectural axonometric drawings.
2008
The first drawing is about Building No.42 in 2008. In that year, Taikoo Li, the most fashionable shopping center at San Li Tun opened. This building is located in the middle of the South and North Wings of Taikook Li. Therefore, it started its commercial transformation as well.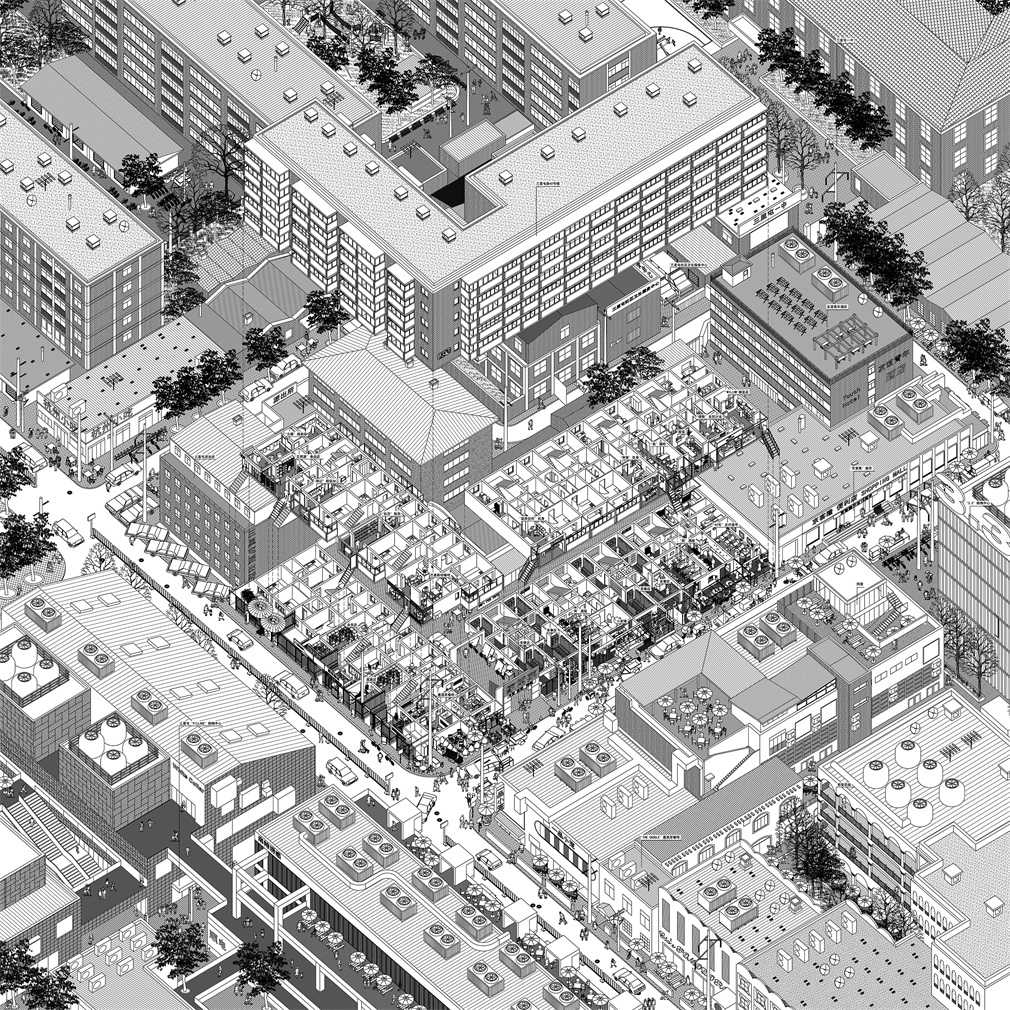 2016
The second drawing depicts Building No.42 at summer 2016. By then, its commercial activities had grown to its zenith. It seemed that the whole building was going to be a sleepless city with each corner becoming recreation facility. But a blue billboard was put next to the electric line pole on the ground, saying the government of Beijing was going to crack down the action of "first-floor-homes-turned-businesses".
This drawing is about the night at San Li Tun. There are two viewpoints in this piece: If looking downward, you will see all kinds of shops and human activities for a night life. If looking upward, you will see shining stars with a jolly happy atmosphere from heaven to earth. During the night, it was very dark on the middle floors of Building No.42. They were used as dorms for the staff from the shops downstairs. The staff worked at bars during the noisy night. When it got quiet during the day, they came back to the dorm to rest. Without involvement of any outer force, this building established a sustainable eco system without too big contradiction.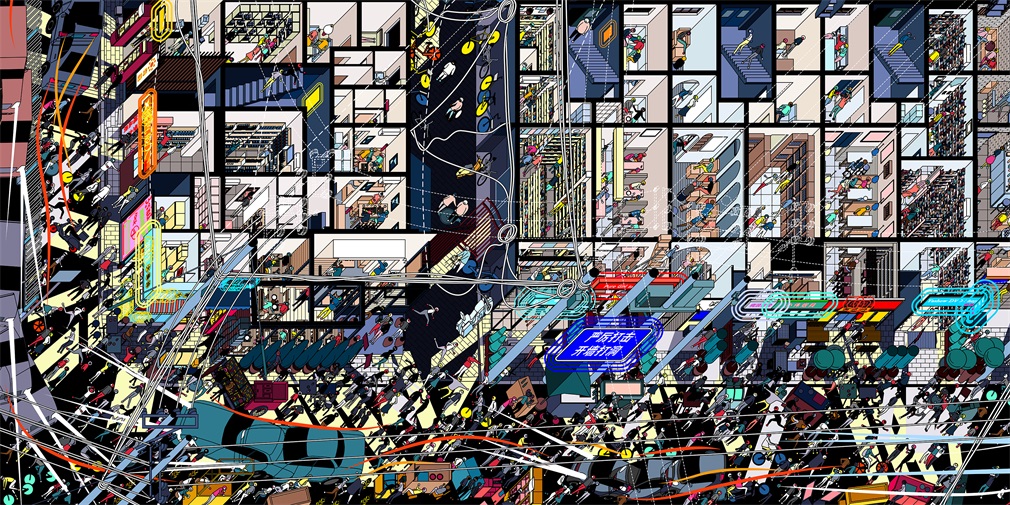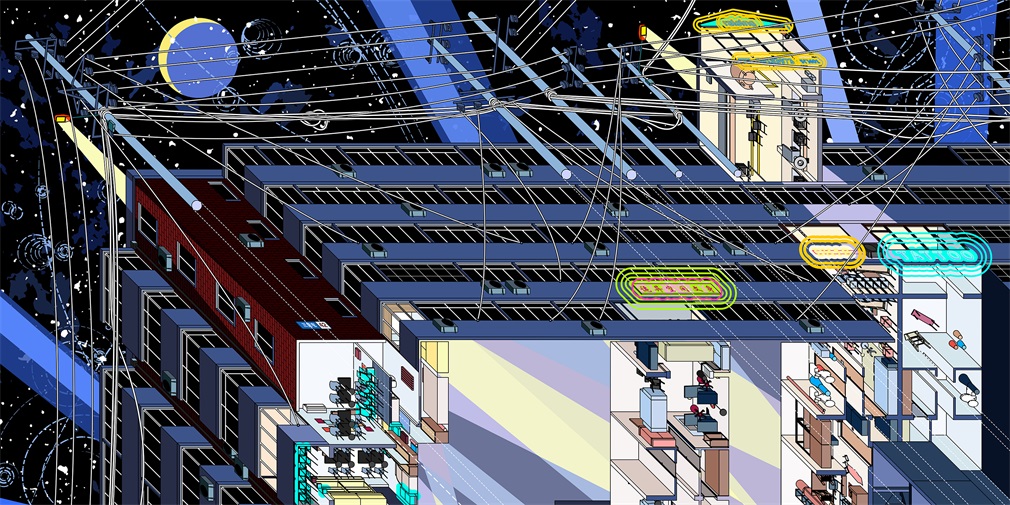 2017.04.24
The third drawing depicts the event on April 24, 2017. On that day the government started a total renovation for Building No.42. This piece explores the aesthetics of violence in architectural drawing. It is filled with broken walls, rubbles, and debris, but there is the strength of construction inside the damage. And there is insistence from the business people against the crackdown. Such contradictory and tensions resulted from all of these have pushed Building No. 42 to its most dramatic moment.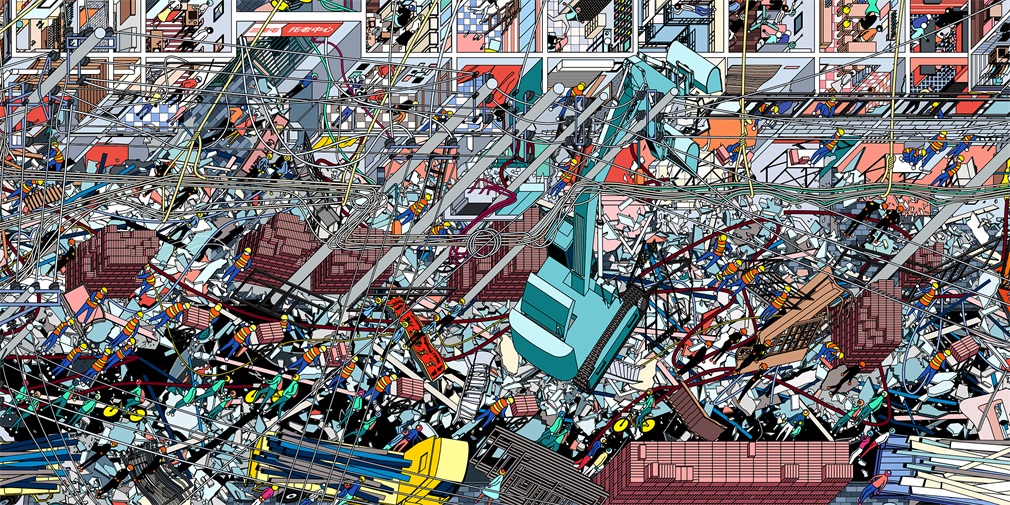 2017.12
The fourth drawing depicts the new Building No.42. Everything is new: new flower beds, new fences for air conditioners, and new windows. It has nothing to do with "dirty". A brand-new, clean and tidy residential building.
There are old residential areas behind the building. And there are newer and more luxurious housings behind the old residential areas. In the most distance, there is a store selling Bentley and Ferrari. What is in the distance? It is just our dreams for this metropolis: decent housing and decent cars. Everyone in this city is trying their best to run towards the new era.